"Land is considered to have a healthy appreciation value more than any other asset classes because of its averseness to market sentiments." Make your dreams come true with our ready to move plots for sale in Gosaiganj. Our property offers an unbeatable location close to schools, hospitals, banks and recreational spots. With all these conveniences nearby, you can create your own space that is uniquely yours. Residential plots are now available to make your dream home become reality. Enjoy the benefits of having access to modern amenities without compromising peace and tranquility in this great location. Take advantage now to secure your own exclusive plots in gosaiganj at an incredible price!
residential Plots in gosainganj for sale residential Plots in gosainganj for sale.
Residential Investment plots in Gosainganj
Unit Size- 1000 SQFT | Unit Size- 1200 SQFT | Unit Size- 1500 SQFT
Investment plots in Gosainganj :- One of the most promising places to invest in real estate is Gosainganj in the Lucknow district of Uttar Pradesh. You'll find yourself in close proximity to Lucknow's key highways like the Purvanchal expressway, Kisan path, and Amar Shaheed path. Because of this, it is a great place to live for people who give a premium on proximity to access. Gosainganj is not only ideally situated, but also in close proximity with many modern conveniences including as hospitals, schools, malls, and parks. Because of this, it is a great place for families to get settled down because it is both peaceful and lively.
Residential plots in gosainganj
Possibilities for Investment
Ready-to-move residential plots in Gosainganj also have excellent investment potential.Gosainganj land that is already primed for development is another great investment option. With continued growth and development, home prices in this area are likely to continue to rise, making now a great time to buy. Also, when you construct your own house, you get to start derived equity in your property from the moment it is built.
Street Light
Dawar Road
Drainage syatem
Sewage syatem
24x7 Security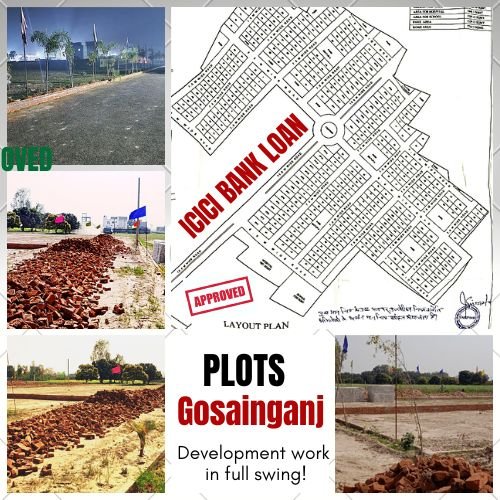 Comfort in Building
A ready to build Plots in Gosainganj makes the process of building your own home much less stressful. You can put all of your energy into planning and building your dream house because the developer will handle all of the necessary paperwork and approvals.
Confidence Building
When you construct your own house in a planned township, you know that every amenities is in place and in excellent condition. Unlike with an older property, you won't have to worry about any unforeseen issues popping up. Also, if any problems do come up , the developer or RWA will fix or upgrade them.
Social Environment
When you buy a ready to move plot in Gosainganj, you join a neighbourhood of people who share your goal of turning an empty plot into the house of your dreams. A sense of community and belonging may result from this, something that is lacking in some established communities. Moreover, many builders include social and recreational facilities like parks and playgrounds as part of their packages. If you plan on selling your home at some point in the future, including these features can increase its value and make it more appealing to purchasers.
Flexibility
When you purchase a Affordable plot in Gosainganj, you have the flexibility to build your home at your own pace. This can be advantageous if you need to make modifications to your plans or if you need to work within a specific budget. Additionally, building a custom home allows you to be flexible with your design choices. You can make changes to your plans as you go, ensuring that your home is perfectly suited to your family's needs and preferences.
Extra Conveniences
In addition to the above-mentioned conveniences, residents of Gosainganj also have access to numerous more opportunities. Due to close proximity with Sultanpur road There is a wide variety of dining and shopping alternatives in the area's many grocery shops, retail stores, and restaurants. This means that you may take advantage of the perks of living in the suburbs while being conveniently close to the action of the metropolis.
To top it all off, Gosainganj is a great place to enjoy the outdoors because it is vfery close to Purvanchal expressway and Kisan path. Trails for walking and biking, as well as play areas and athletic fields, may be found in the vicinity. Because of this, locals may enjoy the benefits of an active lifestyle without ever having to leave their own neighbourhood.
Zone of Rapid Expansion
New businesses and neighbourhoods are continuously popping up in the fast expanding Gosainganj neighbourhood. Because of this, real estate investments in the area are likely to appreciate in value. You can take advantage of the area's expansion by investing in a Developed plots in Gosainganj right now. Our Fully developed plots in Gosainganj Project are conveniently located in a desirable neighborhood that offers the best for your family. Our residential plotted development is surrounded by modern infrastructure and amenities that will enhance your lifestyle, with easy access to major landmarks such as IT City, Medanta Hospital, G D Goenka School and purvanchal expressway. This project promises to improve your lifestyle and keep you connected with all the surrounding attractions and services. We invite you to experience unparalleled comfort in this exclusive residential destination. For more details kindly connect +91-9120-007-371 .